A list of issues being thrown at BIGBANG's Seungri and what you should know about it
BIGBANG's Seungri has been on the hot seat throughout these first few months of the year. Issues are being thrown and being raised dragging his name.
In this article, I will give you a timeline about the rumors, some with accompanying facts, to reiterate issues circulating involving him and some of his businesses.
1. Burning Sun Sexual Harassment Incident
Right after his The Great Seungri tour here in Manila, Seungri was welcomed with issues about him, being labeled as a CEO of Burning Sun Club in Seoul where he is a DJ.
Rumors: Seungri was aware of the 'lewd transactions' between employees and visitors. Another is that he was present during an incident where a 'Mr. Kim' was beaten up by the police, and he bribed the police to shut down the issue.
What You Should Know: Seungri's sister, Hanna spoke up about the issue and told that his brother was innocent. Seungri issued his full statement on his Instagram account – he was only a promoter of the club and not an executive. One of the club's CEO released a statement telling that Seungri served only as a promotional director, and not an executive.
2. Seungri resigns from all of his executive positions
Rumors: Right after the issues about the Burning Sun incident broke, Seungri resigned as a CEO of all his executive positions: CEO of YGX, a subsidiary of YG Entertainment and Co-CEO of Yuri Holdings, a company he established in 2016). His resignation was affiliated with the issues regarding the Burning Sun Incident.
What You Should Know: YG CEO Yang Hyun Suk explained that his resignation as CEO to his personal businesses is inclined with his upcoming military enlistment. The law prohibits any upcoming military personnel from serving in any capacity if they hold a high position from any businesses or establishments. (1)
3. Seungri inhaled a 'happy balloon' on a party in Hanoi, Vietnam
Rumors: Vietnamese media outlets posted photos of Seungri supposedly inhaling a drug called, 'happy balloon' (nitrous oxide) during his visit in the country for business matters.
What You Should Know: YG Entertainment released a statement saying that they have checked on the people involved on this issue. Seungri said that he would never take drugs on a public establishment. Seungri also said that the photo was also taken on a bad angle that those who may see it may misinterpret it. (2)
4. Seungri offers 'intimate favors' involving women for his investors.
Rumors: A Kakaotalk group conversation circulated online involving Seungri, his Co-CEO of Yuri Holdings and an Employee from a club he visits. The conversation was dated way back in 2015. It contains messages of Seungri instructing the employee about the process of leading the girls to their clients.
What You Should Know: The circulating chatbox was fabricated according to YG Entertainment. The reporter who exposed the said conversations insisted that the chats were not fabricated. An investigation on this matter is ongoing at the moment. (3)
5. Seungri invited 'Class A Unnies' for 'entertainment' during his birthday bash in the Philippines
Rumors: During his birthday bash last 2017 on a private island in the Philippines, Seungri invited 'class a unnies' from adult establishments and models to attend his party. The ladies invited to his party were 'offered' to the investors for 'entertainment.'
What You Should Know: The ladies admitted that Seungri invited them to attend and asked them to bring some friends. Both ladies did not mention if any sexual encounter happened during that night as they all enjoyed the party. (4)
6. Yuri Holdings is the mother company of Burning Sun club
Rumors: The club Burning Sun's mother company is Yuri Holdings owned by Seungri and a Mr. Yoo.
What You Should Know: Upon checking Yuri Holdings' website and portfolio, the only business establishments under their company as of 2019 are the following: Monkey Museum, Aori Ramen, and BC Holdings.
7. YG Entertainment hired a shredding service to destroy evidences related to Seungri's issues.
Rumors: Korean news outlet reported that they saw trucks of shredding services arrived at YG Entertainment in the morning. They also said that some
What You Should Know: YG CEO Yang Hyun Suk posted on his personal Instragram a statement regarding the alleged document shredding. He clarified that their company usually has a storage clean up every three months per quarter. He also contacted the company to confirm that the documents were not shredded but only sorted and stores at their warehouse facility. (5)
Caption translation:
"I hope this helps with all the wrong information."
With all that have been said, Seungri cancels his remaining concert to voluntarily participate in all of the investigations. He had himself tested for any drugs consumption and apologizes for any trouble he caused:
Translation (via @Jirilife on twitter):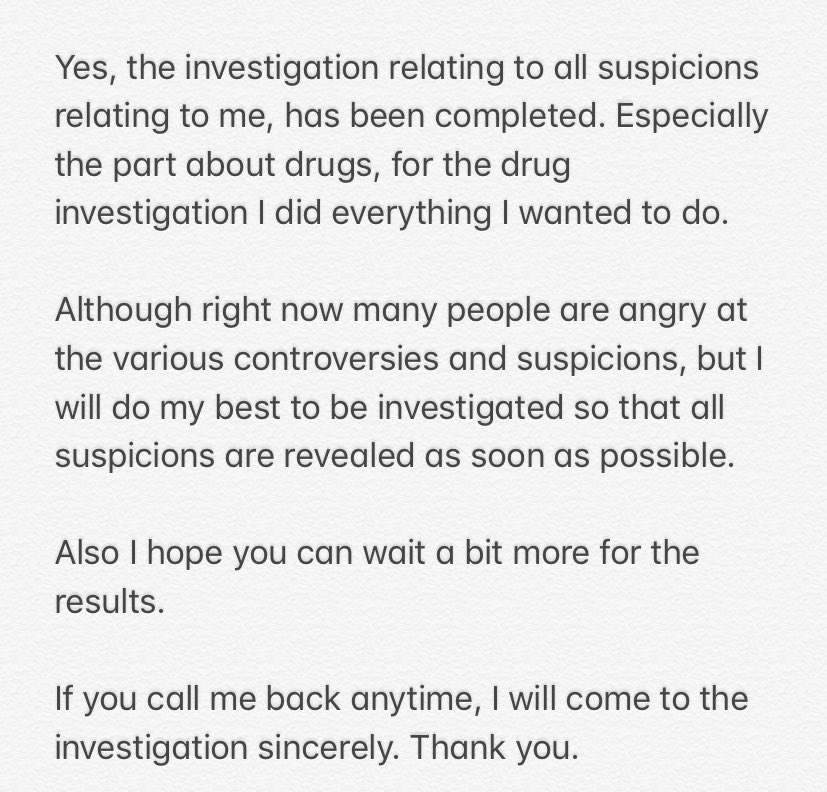 YG Entertainment also said that they wouldn't hesitate to take legal actions if allegations are all proven false.
At present, all allegations involving Seungri are not yet proven true. Everything posted are only rumors and allegations. Investigations are being done at the moment as of writing.
We really hope that the truth will be revealed soon.