A new military musical to look forward to!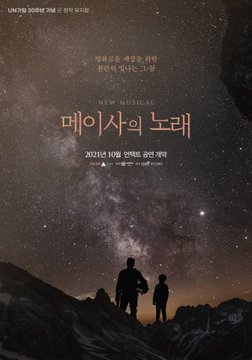 The Army announced on September 22 a new military musical titled Meissa's Song with 31 selected soldiers including the idols who are now in the military named INFINITE's L also known as Kim Myungsoo, EXO's Park Chanyeol, and Jung Daehyun (former B.A.P).
Meissa is from the name of a star in the constellation Orion, which holds the meaning of 'a shining being', "Meissa means not to lose hope during the hard times," they quoted.
This musical will be produced to commemorate the 30th anniversary of UN accession, as the story revolves around a theme of dispatching overseas troops.
It is set in two countries with completely different cultures: Kamur, a fictional-made country with a long civil war and Korea, where K-pop is popular and auditions are held.
The story continues with Raman, who was born and raised in Kamur, came to Korean in search of Meissa, a dispatched soldier who gave him dreams and hopes despite the hardships he experiences and faces.
Meissa Song will let the viewers see the status of the Republic of Korea from a country that received helps in the past to a developed country, as well as the various Korean military activities that are dedicated to international peace abroad.
Moreover, it will be directed by Director Lee Ji Na who directed the well-known musicals such as Gwanghwamun Sonata and Jesus Christ Superstar, while Kim Moon Jung is in-charge of the music whose works are the music of Les Miserables and Empress Myeongseong.
The Korean Army held a public audition last May for the casts of the said musical show from the former soldiers and military personnel of Army, Navy, Air Force, and Marine Corps and came up with a total number of 31 selected casts.
The role of Raman will be played by Army Private Park Chanyeol, an EXO member, and start off with him who visited Korea while participating in a K-pop audition.
While Marine Corporal Kim Myungsoo plays the character of Yeon Joon Seok who came to Kamur after applying for a military service through his friend's suggestion.
His character has lived an obedient life who follows his parents' demands without any special dreams or goals; he then meets a major change in his time while he is in Kamur.
Aside from these two idols, Army Corporal Jung Daehyun (former BAP), Army Private Moon Yong Seok, and musical stars Brad Little and Michael Lee were also part of the said musical show.
Meissa's Song will be held as an online streaming performance starting October 15 to 17, tickets for the show will be opened at the end of this month, September.
Watch Meissa's Song Military Musical – Profile Photo Shooting below: